1st August 2009


Welcome to Illinois Mortgage Rates and News week in review for the week ending July 31st, 2009, my take on the week's financial news and how it affected Chicago Illinois mortgage rates.
The cover of Newsweek this week proclaimed that the recession was over. My first reaction to this was that Presidents Giuliani and Hillary Clinton would be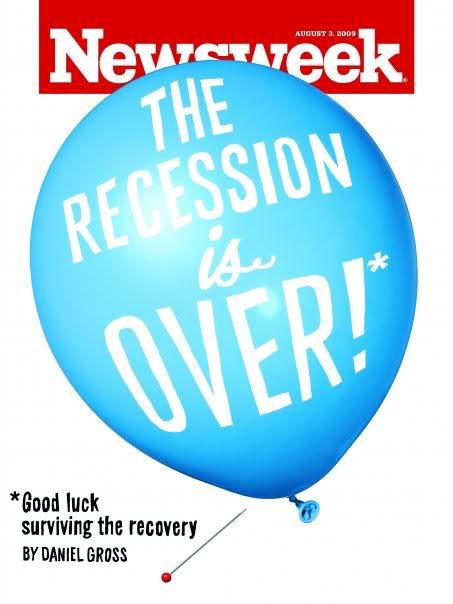 glad to hear this. It turns out that the article wasn't just another off base prediction, but a more subtle argument. As the stock market has been signaling for the past several weeks, the frightful worst of the recession appears to be over, but the road back to recovery will be hard, and with unemployment high, few will feel like celebrating. Barry Ritholtz said the same thing in a more eloquent headline, The Great Recession is Over! Long Live the Ordinary Recession . . . There is no doubt that the news is getting better and it looks like we dodged a bullet and this isn't a replay of the great depression. The question is, have we really reached the bottom, or is this just a pause before the next decent? If this is the bottom, how long will it be before it feels like a recovery?
The real estate market got some good news early in the week. The Census Bureau reported that new one-family houses were up 11% from the May rate. The inventory of homes for sale is now at 8.8 months, the lowest so far this year. The Case Schiller Index came in with similar news, showing home sales up for May and home prices increasing in 14 of the 20 cities surveyed. Most of the reporting on these numbers was that these were signs that the real estate market was turning up. Some others argued that the numbers aren't as strong when seasonally adjusted, and the year over year comparisons are still weak. My own view is that the market is getting stronger, but the bulk of the market is still made up of first time home buyers, and a big portion of what they are buying are short sales and foreclosures. This helps the market by taking up some of the excess inventory, but it also means there aren't as many move up buyers, so the market recovery is mostly in the entry priced level.
The biggest sign of an economic turnaround to date, was the release of GDP (Gross Domestic Product) today. GDP is considered the best measure of economic activity, and the last two releases for the 4th quarter of 2008 and the first quarter of 2009 showed the economy completely crumbling. This release, the 2nd quarter of 2009, showed a decrease of 1%, better than the 1.5% expected and much better than the previous readings. The economy is still slumping, but at a much slower rate. This is the fourth quarterly decline in a row, the first time this has happened since 1947 when they started keeping these statistics. This is the first real proof that the economic stimulus bill passed in January is starting to have an effect.
Another government program that is making more of an impact is the cash for clunkers program. The program started last week with a budget of a billion dollars to try and jump start auto sales and get some more fuel efficient autos on the road at the same time. The results were much better than expected. They blew through the 1 billion in the first week, and the house passed an additional 2 billion dollars to keep the program running. The senate is expected to approve the bill next week. This doesn't mean that GM and Chrysler are going to be booming again any time soon, but this is clearly a boost for the auto industry. Maybe they could do the same thing for housing. Get rid of your old inefficient house and get a big credit for a new one? That doesn't look likely, but if you are a first time home buyer, the $8,000 first time home buyer's tax credit is a great incentive. The deadline of November 30th is approaching, though, and you can expect a log jam of closings as we get closer to the date. If you are thinking of buying this year, make sure you get your Chicago mortgage pre-approval so you are ready and able to meet the deadline.
So how did all this good news affect mortgage rates this week? Usually good economic news is bad news for mortgage rates, but this week mortgage rates improved. This was even more impressive when you consider that there were treasury auctions all week, and the government took on over $100 billion in new debt. This kept mortgage bonds on hold all week. Friday, after the auctions were over, the bond market went into rally mode and rates ended at the lowest point for the week. There are no more auctions scheduled for next week, but there are economic reports nearly every day which could move the market.
Here are the current Illinois Home mortgage rates for an A+ (740 Fico or above), full doc single family home purchase or rate/term refinance on a 45 day rate lock, with 0 points, and no origination fee. The conventional and FHA rates are based on the highest conforming loan amounts, which give the best pricing. Again, there are many factors which affect mortgage rates and your ability to be approved for a loan. These rates may not fit your situation and this is just a sample of the programs that are out there. If you would like a quote for your personal situation, or to get pre-approved for a mortgage, give me a call or contact me (Illinois mortgage company) and I'll take the time to find the rate and program that is best for you:
Conventional loans up to $417,000
30 year fixed rate 5.25% 5.366% APR
15 Year fixed Rate 4.75% 4.884% APR
5-1 A.R.M. 4.25% 4.328% APR
For Jumbo loans over $417,000
30 Year Fixed Rate* 6.50% 6.687%
7-1 A.R.M. 5.50% 5.683% APR
(Another option is to break your Jumbo loan into 2 parts – conventional to the limit of $417,000 and a HELOC or fixed second mortgage for the rest. The blended rate is usually much better than a single loan would be.)
FHA LOANS – 3.5% down payment – FHA Maximum varies by County
With 1 point origination fee – 45 day lock
30 year fixed rate 5.125% 5.622% APR
With no origination fee – 45 day lock
30 year fixed rate 5.375% 5.629% APR
FHA APR reflects 3.5% down payment and the effect of mortgage insurance on the loan. Call for information on no-cost FHA streamlined Refinances
VA Veterans Administration 0 Down Loans
With 1 point origination fee – 45 day lock
30 Year Fixed Rate 5.25% 5.548%
Call for information on no-cost VA Streamlined Refinances
These are just a few of the mortgage programs and mortgage rates available. Which option is best for you depends on your own specific goals and needs. If you have any questions or want to go over your situation in depth, let me know how I can help.
Illinois Mortgage Rates First time home buyer loans
We Lend in All 50 States
Free Mortgage Quote:
Find the Maximum FHA Loan Amount in Your Area Here illinois FHA loans
How to update yourself with Current chicago mortgage rates ? The Answer is here.